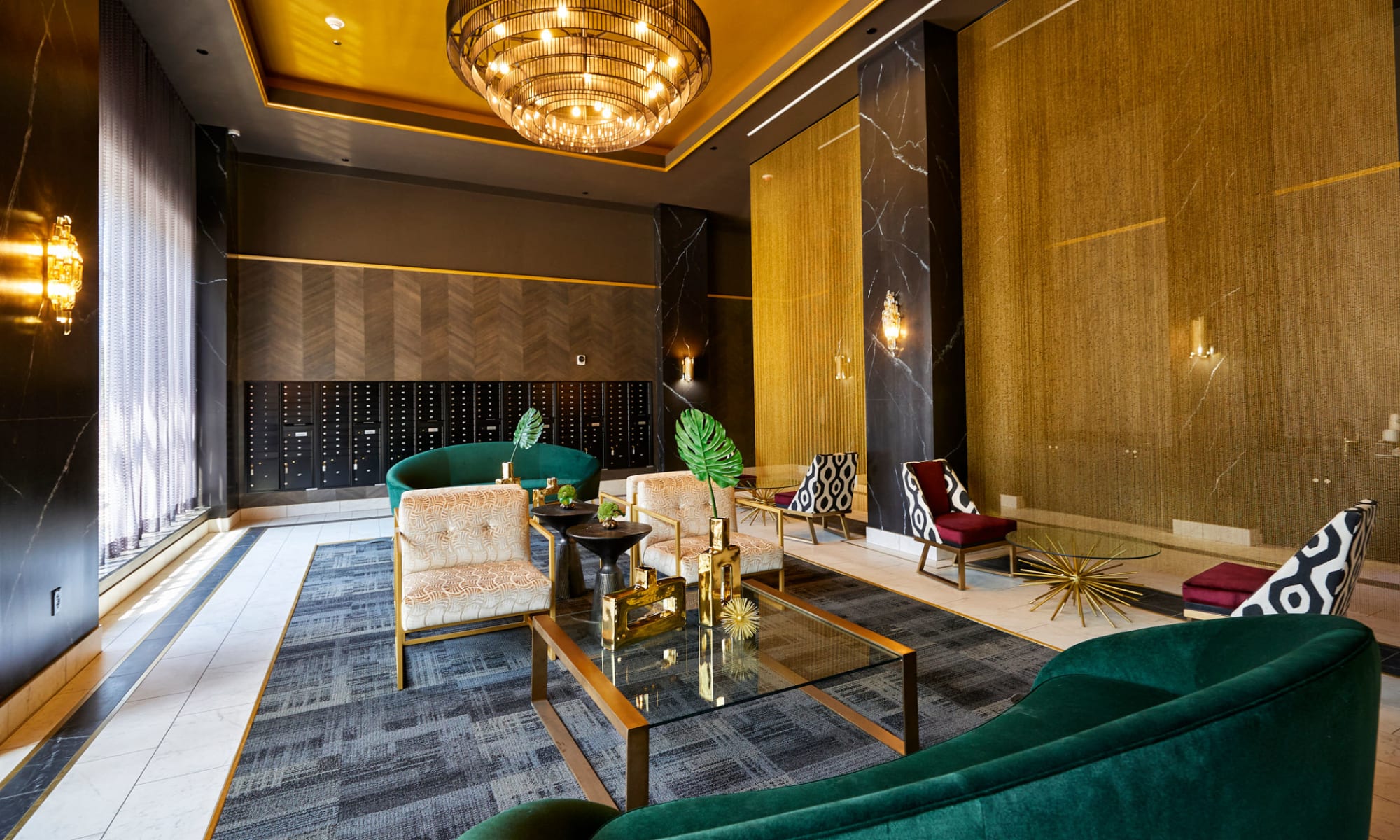 ICONIC RESIDENCES IN
THE HEART OF NEW CENTER.
Convenient. Connected. Contemporary.
Located in the heart of the New Center neighborhood, Detroit, The Kahn offers convenient, connected, contemporary living in a historic, pet-friendly building designed by and named after the city's most famous architect - Albert Kahn.
2022 DETROIT DESIGN AWARDS - COMMERCIAL DESIGN - LOBBY WINNER
In 2018, Kraemer Design Group was hired as the historic preservationist, architect and interior designer for the adaptive reuse of the building. Exquisite historic details have been preserved in the renovation - the building lobby illustrates an Art Moderne influence. The interior design team drew inspiration from the building's Art Deco elements and from the bold design of the main lobby with its striking red marble walls, monochromatic striped stone floor, intricate painted plaster, fluted lights, and elaborate brass decoration. The final design, we like to call Art Deco Fusion, a silky blend of modern materials with Art Deco influence.
With the unveiling of this renovated Art Deco jewel the city of Detroit has yet another architectural masterpiece back on display for the world to see.
Amazing Perks
The Kahn complements its classic art deco past with contemporary comforts in every unit. From quartz countertops and brass hardware to high speed internet and smart thermostats, you'll enjoy the best of Albert Kahn's design with the technology and conveniences of today.
The Ideal Community
Residents of The Kahn enjoy numerous benefits that make life more livable and enjoyable, from immediate access to public transportation and walkability, to a variety of on-site facilities like covered parking, bike storage, and fully-equipped Fitness Center.
Explore Detroit
New Center is one of Detroit's premier neighborhoods for convenience and connection. Its location at the intersection of downtown Detroit and Metro Detroit truly means that you can live here and work or play anywhere. Dining downtown? Shopping in the suburbs? From the Kahn, it's all just minutes away.